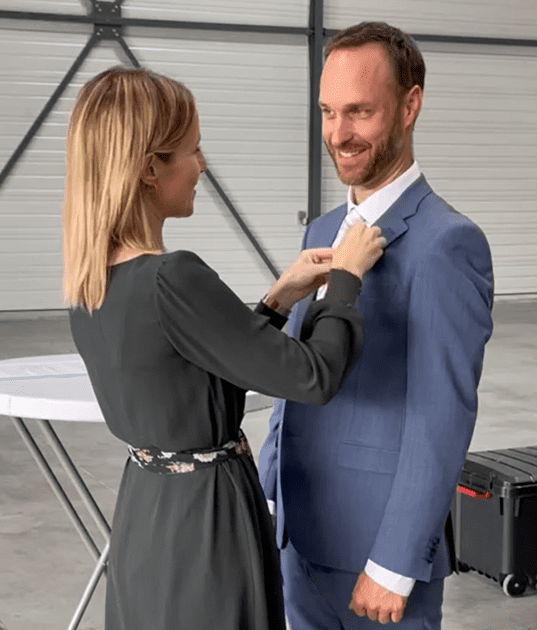 Press release
Gradignan, August 2, 2023
This Monday, July 31, 2023, Rémi Daccord, Technical Director and co-founder of EXOES and E-MERSIV, was awarded the prestigious insignia of Chevalier de l'ordre national du Mérite, by Bérangère Couillard previously Secretary of State for Ecology and currently Minister Delegate to the Prime Minister, in charge of Equality between women and men and the Fight against discrimination.
The ceremony took place at the premises of EXOES and E-MERSIV, in Gradignan, near Bordeaux, in the presence of Michel Labardin, Mayor of Gradignan and Frédéric Zgainski, Member of Parliament for the seventh constituency of Gironde.
This distinction rewards Rémi Daccord's commitment and achievements in favor of the ecological transition.
In 2004, when he was a physicist engineer who had just graduated from the Ecole Centrale Paris, Rémi Daccord created the ODD association "Objectif Développement Durable" offering fair trade companies an audit solution for agricultural cooperatives. In 2007, he founded AMOES, a design office specialized in the building sector, in order to take concrete action to reduce CO2 emissions. The company has now become a cooperative with 4 branches in France and about forty employees. In 2009 Rémi participated in the creation of EXOES alongside Arnaud Desrentes, in order to democratize carbon-free mobility solutions. Together, they are developing the start-up E-MERSIV, which offers niche markets next-generation electric batteries using an immersion cooling technology.
At the same time, in 2016, Rémi made a commitment to the future President of the Republic and in 2020 became Deputy dedicated to energy transition and sustainable cities, alongside the Mayor of Gradignan, in order to raise awareness among the inhabitants of the municipality of low energy consumption.
Rémi's career and achievements are a true source of inspiration for EXOES and E-MERSIV. They demonstrate that the ecological transition is compatible with economic growth and job creation.


About us
EXOES is a French company created under the impetus of Arnaud Desrentes and Rémi Daccord, targeting efficiency in thermal management, in order to democratize green mobility and support the growth in the performance of electric vehicle batteries. EXOES aims to become a major player tomorrow's mobility.


Contact
Claire Carabeuf, claire.carabeuf@exoes.com